Hark! A Vagrant
Hello and welcome to What Are You Reading? Today our special guests are Gardner Linn and Dave Lentz, the creative team behind the webcomic Registered Weapon — "the internet's only webcomic starring a robotic cash register who fights crime." They just kicked off their latest story, Case 006, on Nov. 12, and you can also download the first ten pages from their site if you prefer to read in bigger chunks.
To see what Gardner, Dave and the Robot 6 crew have been reading, click below …
Love and Rockets New Stories took home three awards tonight at the 2012 Ignatz Awards, which were announced at SPX, the Small Press Expo in Bethesda, Md.
Nominees for the awards were chosen by a jury of five creators and voted on by attendees at the show. This year's jury included Edie Fake, Minty Lewis, Dylan Meconis, Lark Pien and Julia Wertz.
The 2012 Ignatz award winners are:
Outstanding Artist: Jaime Hernandez – Love and Rockets New Stories (Fantagraphics)
Outstanding Anthology or Collection: Hark! A Vagrant – Kate Beaton (Drawn & Quarterly)
Outstanding Graphic Novel: Big Questions by Anders Nilsen (Drawn & Quarterly)
Outstanding Story: "Return to Me," Love & Rockets New Stories #4, by Jaime Hernandez (Fantagraphics)
Promising New Talent: Lale Westvind – Hot Dog Beach (Self-published)
Outstanding Series: Love and Rockets New Stories by The Hernandez Brothers (Fantagraphics)
Outstanding Comic: Pterodactyl Hunters by Brendan Leach (Top Shelf)
Outstanding Mini-Comic: The Monkey in the Basement and Other Delusions by Corinne Mucha (Retrofit Comics)
Outstanding Online Comic: SuperMutant Magic Academy by Jillian Tamaki
Kate Beaton mentioned on her Tumblr last week that she's working on new material for her follow-up to Hark! A Vagrant, but is exploring a different tone.
"I've been thinking that I'd like to see the next book take a different direction than the last," she wrote. "Not just a Volume II, but something new to offer. And I've been ready to do something different as well. I'd like to tell some stories that mean something to me, with a personal connection." To that end, she's been studying her hometown and the people there.
"I am trying to find the tone I'd like, and practice a different way of telling stories," she said. "Collections of small stories that paint a big picture. It's the little moments that interest me, human, and funny, and sad, because that's life. Relatable, and real. I figure now was the time to do it since I impulsively start drawing those stories anyway, and have sketchbooks full of little scenes. If I made this book it would be a smaller think than Hark!, quieter, but I wouldn't mind."
She's already started posting some comics that demonstrate what she's talking about and the results are — as she says — funny, sad and very human.
Hello and welcome to What Are You Reading? Our special guest today is Joey Weiser, creator of Cavemen in Space, The Ride Home and Tales of Unusual Circumstance, and a contributor to SpongeBob Comics.
To see what Joey and the Robot 6 crew have been reading, click below.
"This is a funny job. Webcomics are often cited as the future of comics and the internet and I don't know what else, but the fact that no one has retired from them yet means that I, at least, rest a little uneasy in these shoes sometimes if only for the lack of having a dependable compass by which to steer the ship. I just want to make the best decisions I can, so that I will be around longer, making drawings and comics and writing and other things that I hope people will enjoy. I'm not sure what will work out with these opportunities that have come my way, and I guess I can't really say much about them, but I think I'd be a fool if I didn't give them a try. So I am going to! Whatever I can let you know, I will."
-Hark! A Vagrant creator Kate Beaton, explaining how the success of her webcomic and the subsequent print collection has brought a lot of offers her way, "from children's books to television work," which she plans to pursue. Which is good news for her, but the bad news is it means she won't be updating her site with new comics as frequently. She has started a Tumblr where she'll post sketches and other stuff in the meantime.
"Best Of"s are always a problem for me; I get plagued by the knowledge that I know that I'm going to forget something really important – The list of important things that I've forgotten in my life is both embarrassingly long and just plain embarrassing, trust me – as well as the fact that I've just not managed to read all the good stuff released this year. How can I claim that something is one of the Best 10 Whatevers of the year if there's another something I suspect may be even better, if only I could finally get around to making time for it?
And yet… 'tis the season, isn't it? With 2011 just days from crawling out the backdoor, ashamed at its behavior and hoping that no-one will think too ill of it in future, this is the point where everyone looks back and picks their favorite things of the past twelve months. "Favorites" is a far more accurate term; less definitive, true, and less likely to get hits because of that, but it's more true to say "I liked these the most" than "These are objectively the greatest," isn't it? And so, in no particular order and with the warning that I will inevitably have forgotten something important and wonderful, five of my favorite books of 2011: Continue Reading »
Season's Greetings and welcome to another edition of What Are You Reading?, our weekly look at what we've been reading lately. Today our special guests are Geoffrey Golden and Amanda Meadows, editors of Devastator: The Quarterly Comedy Magazine for Humans. Their latest issue has a video game theme, with contributions from James Kochalka, Corey Lewis, Danny Hellman and many more. And if you head over to their website between now through Dec. 16, the code ROBOT6 gets you 20 percent off single issues.
To see what Amanda, Geoffrey and the Robot 6 crew have been reading lately, click below.
Hark! A Vagrant cartoonist Kate Beaton's no stranger to superheroes, and her salty take on Wonder Woman really brings out the best in both women, real and imaginary. This time around, Beaton's Wondy receives advice on how to be more awesome from Superman, Batman, some DC honchos, admiring fans, angry detractors, and more. Needless to say, she's having none of it. Go read, but be careful not to touch that tiara. It looks dangerous!
Creators | Writer Peter David shares a "Fan/Pro Bill of Rights" related to proper behavior at conventions, starting with a "Prime Directive": "Fans and Pros have the right to be treated by each other with the same courtesy that they themselves would expect to be treated. Fans and Pros who act like jerks abrogate the right to complain when they themselves are treated like jerks." [Peter David]
Crime | A Denver judge sentenced Aaron Castro to 45 years in prison after Castro pleaded guilty to drug and extortion charges. Prosecutors say he ran a major methamphetamine distribution ring and laundered the profits by buying and selling valuable comics in the collector's market. [KMGH Denver]
Digital | Robot 6 contributor Graeme McMillan catches an error in Marvel's press release from last week: Marvel was not the first comics publisher to release an entire line of comics simultaneously in print and digital—Archie Comics was. [Blog@Newsarama]
Hark! A Vagrant
by Kate Beaton
Drawn and Quarterly, 168 pages, $19.95.
The thing that amazes/impresses me the most about Kate Beaton' comics is how much everyone loves them. OK, not everyone — I do know one or two stragglers that refuse to find anything amusing in her sly little comics — but a lot of people from disparate fan bases really like her stuff. Indie readers like Kate Beaton, Superhero fans like Kate Beaton,, and (perhaps most notably) people who hardly ever (if at all) read comics like Kate Beaton (like my wife). She crosses boundaries in a way I don't think I've seen any modern cartoonist do, let alone a webcartoonist. I think that's even more impressive when you consider how often she relies upon (relatively) obscure historical figures and literature as the basis for her strips.
Other than that I really don't have much to say, except that those who own her first book, Never Learn Anything From History, and haven't bought this one yet because they're worried it reprints the same material can relax; it doesn't. Basically if you appreciate intelligence, wit (or smartassery) and the chance to learn something on the side, then this is the book for you.
More reviews after the jump …
Legal | Stan Lee's Guardian Project, introduced last year at New York Comic Con, has sparked a lawsuit from a Hollywood manager who claims he was cut out of the venture, which transformed National Hockey League mascots into superheroes.
In the lawsuit, filed last week in Los Angeles Superior Court, Adam Asherson contends the project, now co-owned by NBC Universal, dates back to 2003, when he was introduced to the idea by fellow manager Anthony Chargin and Chargin's client Jake Shapiro. Asherson, who had a relationship with Lee, says he suggested the legendary comics writer would be the "perfect" partner for the endeavor. They pitched Lee on the project, called Defenders, which focused on the National Football League, with plans to expand to Major League Baseball, the National Basketball Association and the NHL. For unspecified reasons, the NFL deal never came together. However, six years later The Guardian Project emerged with the involvement of Chargin, Shapiro and Lee — but without Asherson.
Asherson claims Guardian Media Entertainment, SLG Entertainment, Chargin and Shapiro have breach an oral joint-venture agreement, committed promissory estoppel and fraud, and breach fiduciary duties by leaving him out of the NHL agreement. [Hollywood, Esq.]
Publishing | DC Comics associate editor Janelle Asselin has left the company, reportedly for a job with Disney. She clarifies on Twitter that, contrary to a report, she wasn't escorted from the building on Tuesday but, rather, left "at my leisure." Asselin had been with DC since 2008, working primarily on Batman books like Batman and Robin, Batman: Streets of Gotham, Red Robin, Birds of Prey and the relaunched Batman, Batwoman, Detective Comics and Savage Hawkman. [Bleeding Cool]
Publishing | Longtime editor Betsy Mitchell is taking early retirement from her post as editor-in-chief of Del Rey, where she helped create Del Rey Manga. Tricia Pasternak, a former Del Rey Manga editor herself, has been promoted to editorial director. Del Rey was established as a science fiction prose imprint; the manga line was created in 2004 and was mostly shut down in 2010, when Kodansha began publishing its manga directly in the U.S. However, Del Rey still publishes a handful of manga and graphic novels, including xxxHolic, King of RPGs, and Deltora Quest. [Publishers Weekly]
Legal | In a twist that sounds like something out of a comic (or even an ad from an old comic), a witness in the Michael George trial testified he saw someone wearing an obviously fake beard outside George's Clinton Township, Michigan, comics shop a few minutes before George's first wife Barbara was murdered inside the store in 1990. [The Tribune Democrat]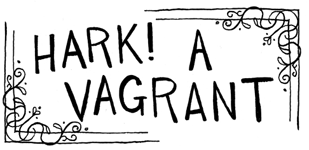 Tom Spurgeon broke the news that Drawn & Quarterly has acquired the North American rights to publish a new collection of work by cartoonist Kate Beaton titled Hark! A Vagrant.
Using the name of Beaton's website, the book will collect comics she has published there, as well as some new strips. The Montreal-based publisher plans to have the hardcover collection on store shelves in the Fall of 2011. UK fans will see her book put out through Jonathan Cape.