Jonathan Cape Archives | Robot 6 | The Comics Culture Blog
Stephen Collins' debut graphic novel The Gigantic Beard That Was Evil has been shortlisted for the Waterstones Book of the Year Award, pitting him against such established authors as Kate Atkinson and Julian Barnes.
Published in June by Jonathan Cape, the graphic novel is an off-beat fairy tale about a man with a boring office job who quite suddenly begins to grow a beard — but not just any beard. It quickly becomes, as the title suggests, massive and uncontrollable, attracting the attention of tourists and law enforcement alike, and upending the staid order on the island of Here.
The Gigantic Beard That Was Evil is in competition with five other books: Life After Life, by Kate Atkinson; Levels of Life, by Julian Barnes; Maps, by Aleksandra Mizielińska and Daniel Mizieliński; Love, Nina: Despatches from Family Life, by Nina Stibbe; and Stoner, by John Williams.
Nominees for the Waterstones Book of the Year Award are selected by the British retailer's booksellers from across the country, who were asked "to choose a book that stood out in its field, and that would speak to the company's core customers – those people who love reading and that love books." The winner will be announced Dec. 3.
Legal | Archie Comics Co-CEO Nancy Silberkleit is in court again, this time claiming sexual harassment by former friend Sam Levitin, who was her liaison to Archie after her legal feud with the company and C0-CEO Jon Goldwater was settled last year. Levitin has responded that Silberkleit "lacks functional communication skills and has an unstable temperament" and has a "venomous and destructive effect" at the company. Levitin asked the court in December to remove Silberkleit as a trustee of the company, and she responded in April with the allegation of sexual harassment against both Levitin and Archie Comics. An outside firm hired by Archie determined that her claims were "unfounded," and the publisher is not a party in the latest lawsuit. [New York Daily News]
Legal | Jeff Trexler takes an in-depth look at the copyright battle between Marvel and Jack Kirby's children. [The Comics Journal]
The winners of the Observer/Jonathan Cape/Comica Graphic Short Story Competition were announced over the weekend, and the top prize winner was no newcomer: Corban Wilkin is just 22, but he has participated in the contest four times.
"The only thing I'm sad about is that I won't be able to enter again," he told Rachel Cooke of The Observer. "I've loved doing it over the past few years. The brief is tricky – a very limited format and yet complete freedom of subject matter – but it's a challenge I relished. Once you enter, your writing improves pretty quickly. Four pages is a small space in which to tell a proper story."
Wilkin's winning short story, "But I Can't," can be seen on the contest website or his own site. The story follows two girls, starting when they are 8 years old and share a fascination with UFOs and bringing them through their teens, as they take drastically different paths. He packs an amazing amount of story into just four pages, sketching the characters in a loose, expressive style with brush and ink and a limited color palette. Wilkin, who cites Craig Thompson and Seth as his influences, is also working on a longer graphic novel, and the prize money will be most welcome, he says, as the rent is due.
The runner-up is Steven Tillotson's I, Yeti, in which the Abominable Snowman gets all philosophical.
(via Forbidden Planet)
It's been more than a year since Bryan Talbot announced a third volume in his anthropomorphic-steampunk series Grandville, and he's close enough to the end to release a trailer. The video features Talbot himself as well as a number of his characters and the art looks pretty smooth. The book is due out in December from Dark Horse in the United States and Jonathan Cape in the United Kingdom.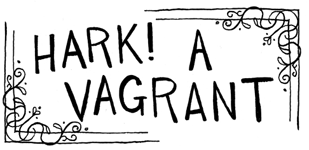 Tom Spurgeon broke the news that Drawn & Quarterly has acquired the North American rights to publish a new collection of work by cartoonist Kate Beaton titled Hark! A Vagrant.
Using the name of Beaton's website, the book will collect comics she has published there, as well as some new strips. The Montreal-based publisher plans to have the hardcover collection on store shelves in the Fall of 2011. UK fans will see her book put out through Jonathan Cape.